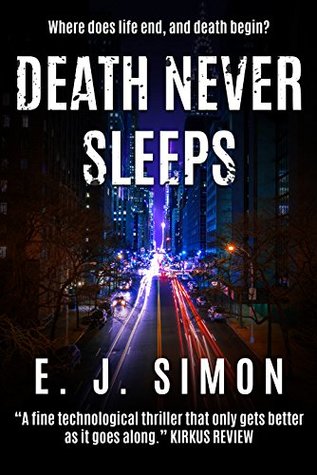 Death Never Sleeps: Michael Nicholas #1 by E.J. Simon – Published July 19th 2017 by Endeavour Press
Synopsis: Where does life end, and death begin? Brothers, Alex and Michael, weren't particularly close in terms of their careers in their later years. But when Alex is murdered, Michael finds it necessary to keep Alex's business running, at least for the foreseeable future.
With very little knowledge about what Alex actually did for a living, little does he envisage the level of complication this entails. Working closely with his cousins, Fat and Skinny Lester, Michael starts to get a sense of what needs doing … in whatever way Alex would have dealt with things.
But, when Alex's current wife, and his two ex-wives, surface and start to dish out demands, Michael finds himself going deeper and deeper into Alex's personal space. All his ex-wives knew there was money left hidden … but only Alex knew of its exact location.
When Russell, an old friend of Michael's, and Alex's most trusted person, offers to help Michael find the money, Michael feels he can start closing up on Alex's loose ends and move on with his own, increasingly complicated life.
Until … Russell is brutally murdered …
Someone else is after Alex's money … and it's not a friendly person.
But is Alex really dead? Or is he as dead as he has prepared himself to be?
Michael is beyond confused … is he imaging the conversations he's having with Alex? But Alex was shot dead in his own restaurant, one filled with policemen. Surely, Alex is dead?
Whichever way Michael tries to rationalize things in his head, Alex's support is beyond what he needs. Finding himself face to face with a crook, Sharkey, one who has no qualms about killing people, one Alex was in debt to, Michael takes on Alex's advice … dead or not!
As the number of deaths rise, Michael and his wife, Samantha, are left on their toes. Would they ever feel safe again? Is anyone safe? And how far did Alex go with his new venture?
E. J. Simon was born in New York City and grew up in Queens. His parents were both from Greece, his father became a successful furrier on Manhattan's Fifth Avenue in the 1950's when mink coats were fashionable.
His mother grew up in Durham, NC and his annual travels back to Raleigh, Durham and Chapel Hill, NC to visit his mother's family led to his love of the South.
As a young boy, his passions were reading, history and baseball, not necessarily in that order.
He graduated with a BA in Journalism (before switching majors from History to English to Political Science and maybe others) from the University of South Carolina. He remembers spending more time reading what he wanted, working in a local restaurant and playing baseball more than he can recall being in class. He later earned an MA in Communications from Fairfield University where the Jesuits were stricter about attendance. He has also attended the University of North Carolina and the Graduate School of the New School for Social Research in New York.
After many years in corporate leadership positions, including CEO roles in two major companies, he followed his passion and began to write. His first novel, Death Never Sleeps
was a Kindle best-seller. He has continued to author books in the series, now including Death Logs In and, to be released in July by Endeavour Media (UK), Death Logs Out. He is completing the fourth novel in the series, Death in the Cloud.
EJ is currently enjoying his role as Vice President of Business Development for Coldwell Banker, Howard Perry & Walston in Raleigh
After spending most of his life in New York City and Westport, Connecticut, Simon and his wife, Andrea, have moved to Cary, North Carolina and are enjoying southern living, the theatre, music, cooking, dining out and building their photography collection. He still is an avid New York Yankees fan but also now follows the Durham Bulls.
My Review:  Death Never Sleeps is a suspenseful mystery science fiction read that is sure to draw you in from the first page. This captivating story keeps you guessing until the very end. The characters are well-developed with intriguing back stories that make for a memorable read. Death Never Sleeps is the prefect beginning to the Michael Nicholas series. I recommend this to anyone who loves science fiction thrillers.  ** I received a complimentary copy in exchange for my honest and unbiased review. This post contains affiliate links and I will be compensated if you make a purchase after clicking on my links.**